Pench National Park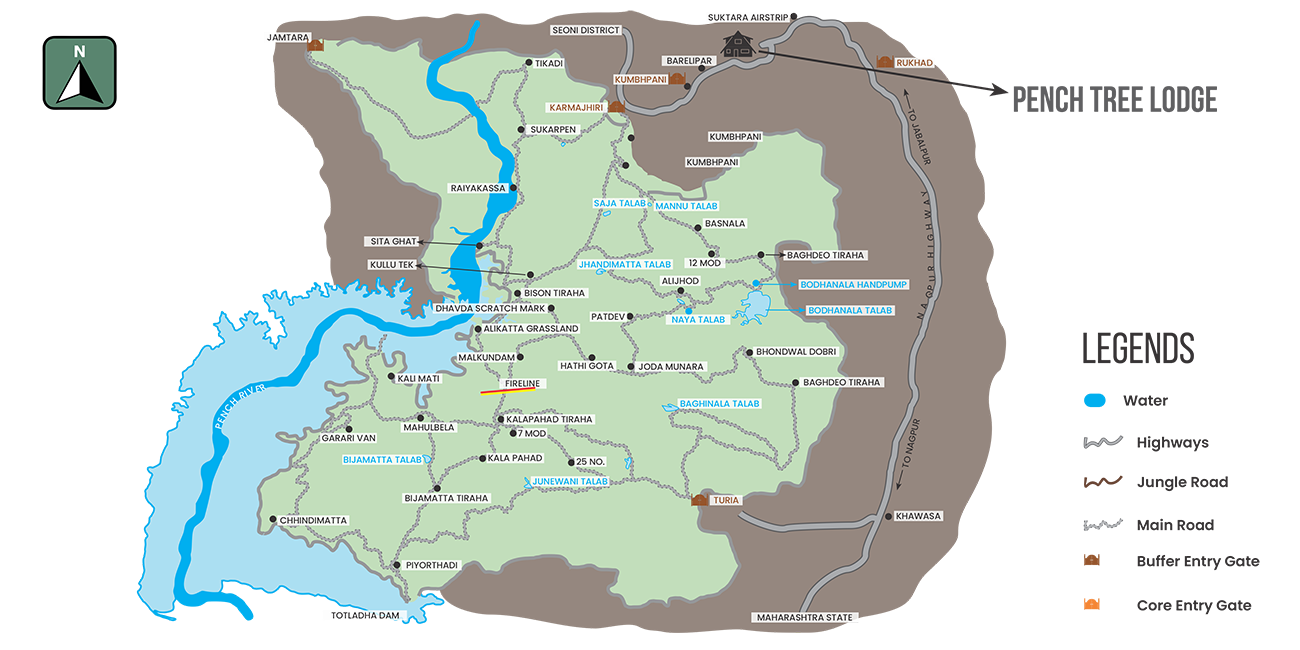 Pench National Park is a wild playground harboring country's maximum density of prey animals, chased by estimated 65 Tigers. In 1983, it was declared a National Park and in 1992, a tiger reserve.
Pench Tiger Reserve is spread across 1,180sq km, including a buffer zone of 768sq km. Pench National Park is situated under the Seoni and Chhindwara administrative districts of Madhya Pradesh and shares southern boundary with Maharashtra and hence is accessible from Maharashtra as well. Pench Tiger Reserve comprises "Indira Priyadarshini Pench National Park, Pench Mowgli Sanctuary, and the buffer forest.
There are three gates for core to access Pench National Park from Madhya Pradesh - Turia Gate, Karmajhiri Gate and Jamatra Gate. Pench Tree Lodge is located close to Karamjhiri gate (25 minutes) which besides jeep safari also has access to a unique walking trail - Runi Jhooni.
Pench National Park also offers safari to its blessed buffer zones including Teliya Buffer, Khawasa, Buffer, Kumbhpani - Tekadi Buffer and Rukad Buffer.
Rukad buffer can be easily accessed from Pench Tree Lodge and has been having consistent Tiger sightings. Kumbhpani - Tekadi buffer is close to Karmajhiri gate and has easy access from Pench Tree Lodge. This buffer also allows night safaris.
Pench is where the literary genius, Sir Rudyard Kipling created the timeless classic, The Jungle Book and its wolf child, immortalized as Mowgli. This masterpiece inspired by the true incident of a human child, reared by wolves in the nineteenth century, in Seonee (now Seoni) district, is located in the charming, lush land of Pench, in Madhya Pradesh.
It isn't a surprise that Sir Kipling was beguiled by the streams and rivulets - most of them springing from the River Pench, the lofty Satpura range, a landmass covered by the towering teak and dry deciduous forests.
Pench is indeed a land of delightful splendour. Myriad flora and fauna inhabit these stunning jungles. Tigers, Indian leopard, sloth bear, several varieties of spotted deers, nilgais, sambhar, chinkara, etc, wild dogs, gaurs and not to forget Kipling's adoptive family for Mowgli - the wolves. Pench is an idyllic land for bird watching, boasting of over 210 species of birds.