Food in Pench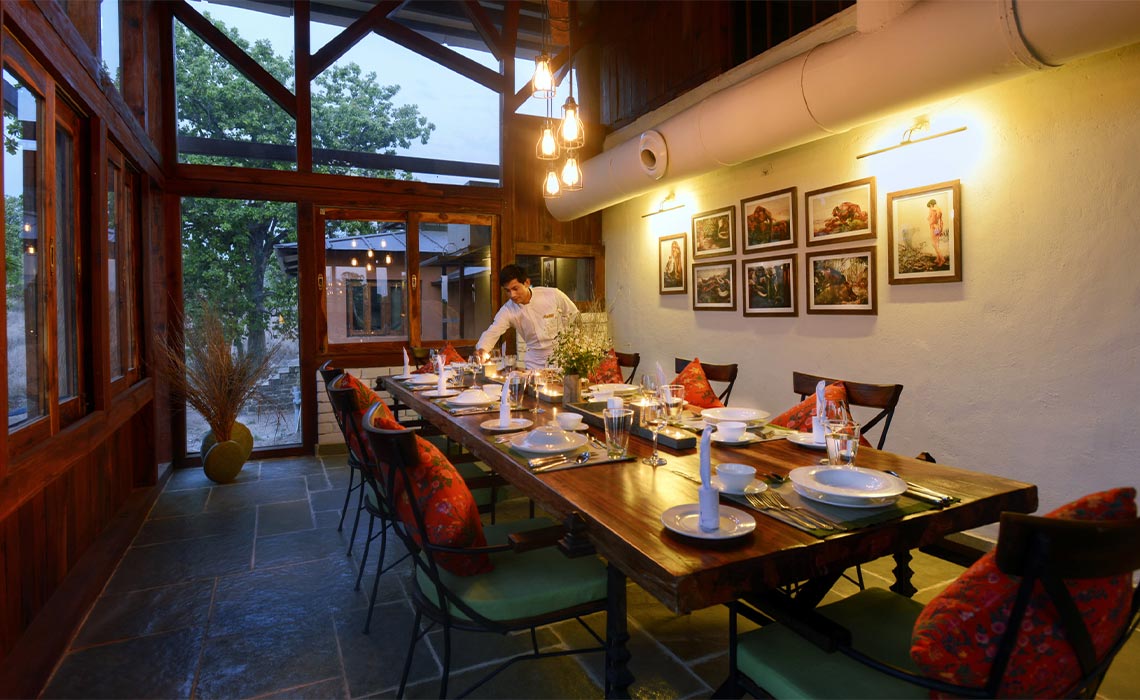 Our guests get to savour several gastronomic delights in a very different light- with each platter seasoned with freshness, authenticity, style, and sustainability. We believe culinary is a serious ballgame and it can completely change people's perspectives. Thereby, we set examples of incorporating sustainable values in our food menus.
Breakfast is served on safari inside the park along with fresh coffee and an assortment of teas, freshly baked bread, croissants, and much more. In case you decide to stay back for a leisurely breakfast the same can be served next to the poolside to give a great start to your day.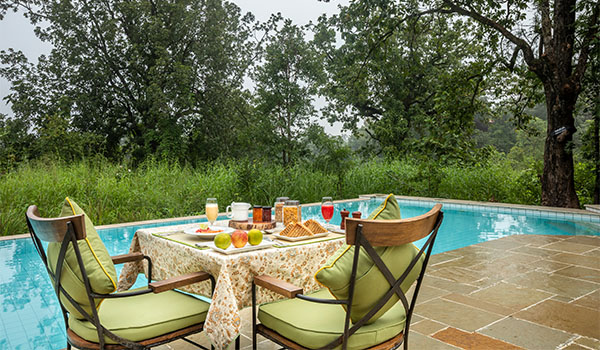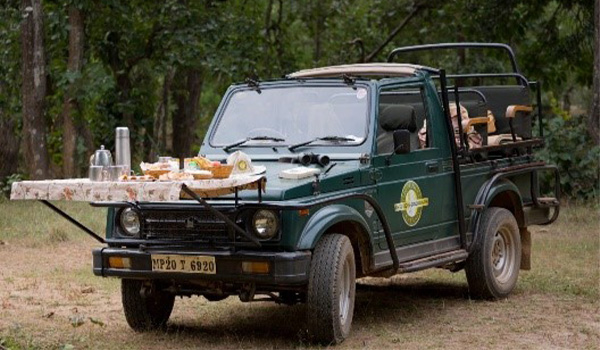 At Pench Tree Lodge we offer our guests the authentic regional flavours of Madhya Pradesh. We serve a fixed menu for lunch which includes giving our guests the taste of what is grown locally in our organic garden. Be it Desi aloo (local potatoes), Daal Barbati (Yard Long Bean in lentil form), Dobri Mahua Kheer (Mahua flowers made in rice pudding), or an exquisite range of home-made ice creams, every dish served is bound to leave a burst of flavour in your mouth. The cooking techniques used are inspired by the local culture and ranges from simple roasts to barbeques to great salads.
For dinner, the chef is happy to take requests and personalize meals including popular items from global cuisine. To keep our little guests happy, we have also designed a customized menu with a twist of healthy ingredients including freshly made popular items like noodles, pasta, or a simple khichdi.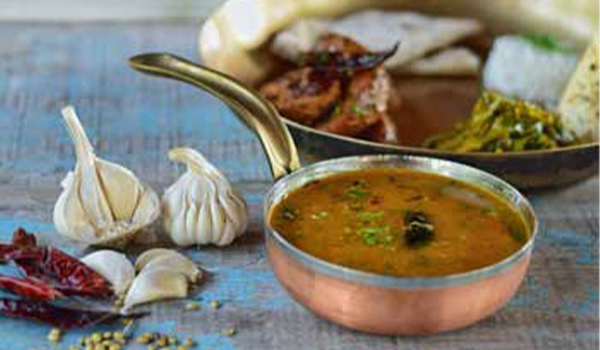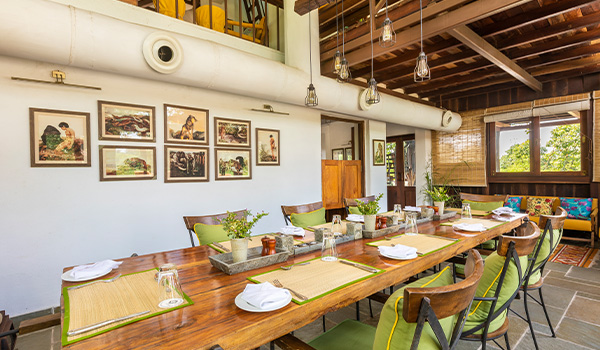 Globally referred to as under 100-mile menu, we have recently introduced 'Paanch Gaon Andar' menu, that has been prepared to keep the essence of local flavours alive. Inspired by the 50-mile menu, this menu includes sourcing all major items from the neighbouring 5 villages and crafting a lineup of locally eaten recipes, from across these villages, which exist around the radius of our lodges.
Continuing with the effort of having moved our focus towards sustainable & healthy food where we did away with all kinds of tinned & packaged food & focused more on growing our own & sourcing locally, this appeared to be a natural extension.
We reduce miles and transport costs by sourcing food ingredients from local farmers and buying from local markets as much as possible. This supports and helps them while ensuring we stay true to our sustainable living practices.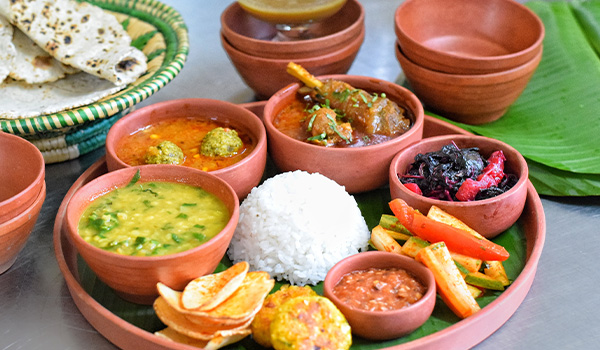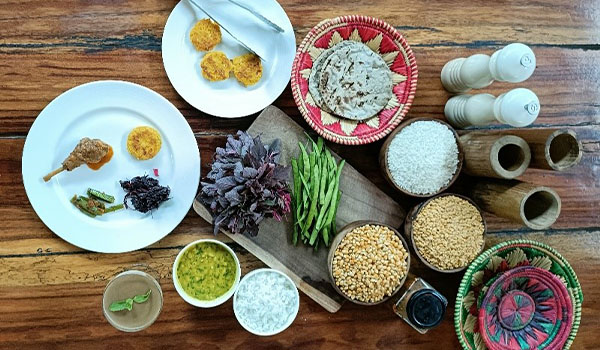 As a special experience guests can book a popular 'Farm Dinner Meal', under the star-studded night sky, set in a village-like set up next to the sprawling organic garden. A setup that transports you to a rustic realm-the cow dung smeared floors, the mud walls with frescoes of wild animals and plant motifs, and corncobs or rice sheaves hanging from the ceiling during the harvest. The mini-village concept highlights the menu which is primarily local, cooked using earthenware black clay pots in a tandoor and an open hearth with fire bricks to create a chulha over it. There are two distinct flavours that come through, one from the earth used in the making of the pots, the other is from the kind of wood used in the firing up of the tandoor.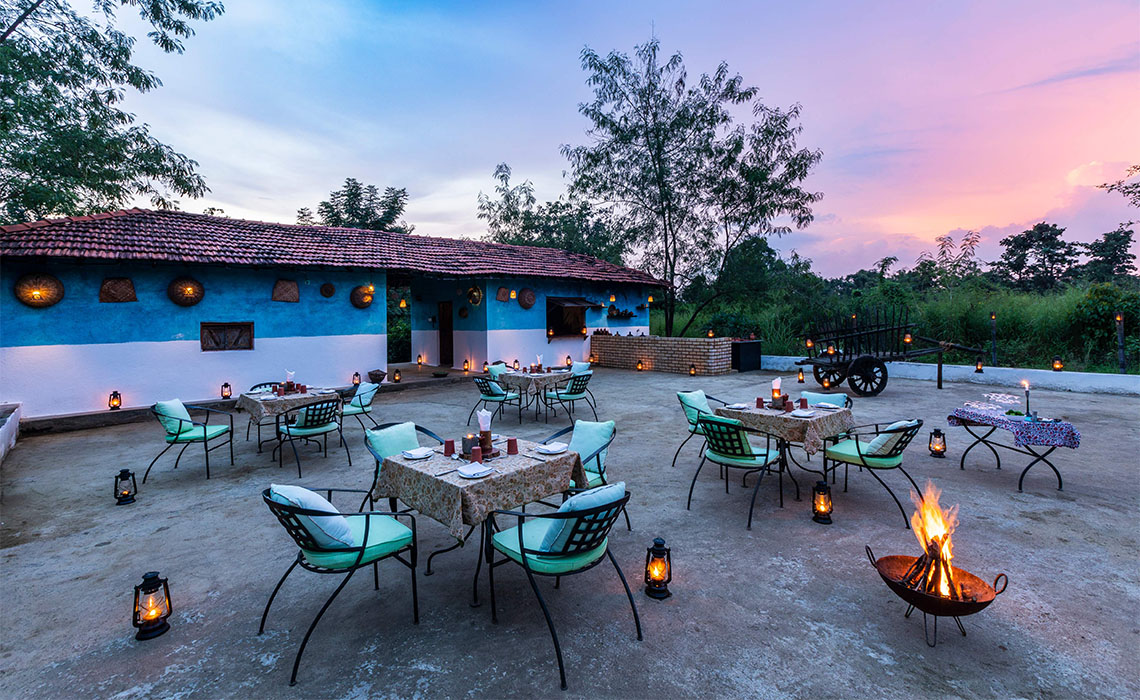 The guests are also given a live demo of some of the recipes like Angari Alu, Ajwaini Paneer Tikka & Barbeque Chicken Tikka in Farm Dinner Experience.