Your Stay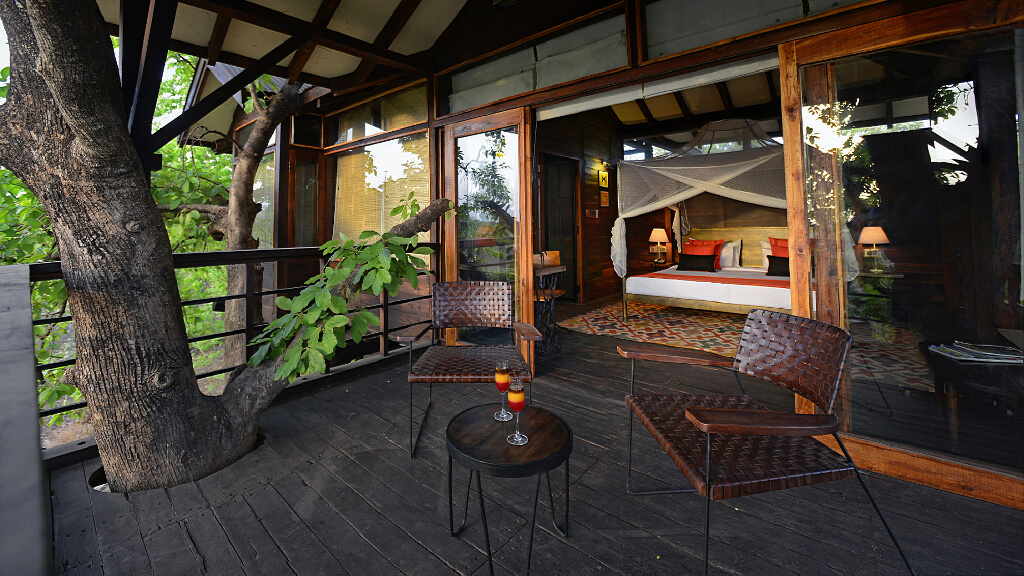 Your luxurious abode in the jungle is perched on top of the Mahua trees and supported by stilts. Large French windows allow for an uninterrupted view of the deciduous forest and grassland and lets you observe the multitude of birds, butterflies and the wild animals at the lodge. Our guests have so far seen wild boars, civets, jungle cats, jackals and spotted deer as they sat sipping their morning tea or the evening sundowner on the private deck. Breaking away from the monotony of oft repeated safari lodgings, they have been designed with an eclectic mix of vintage and natural aesthetics.
Facilities at a Glance
The boutique lodge has six treehouses with the following features:
• Made of local Sal wood and perched at 18 feet above the ground.
• Large French windows that open to private sit out deck and bay window lounger that doubles up as a day bed.
• Large four poster bed with fine cotton linen and soft mosquito netting.
• Features specially curated wildlife art that's a contemporary take on traditional patchwork.
• Air conditioning [cool or warm, as per weather] and 24 hours power backup.
• Spacious well designed bathroom with 24 hours hot and cold water.
• Complimentary organic toiletries and bathroom essentials.
• A tea and coffee pantry offering a choice of select brews.